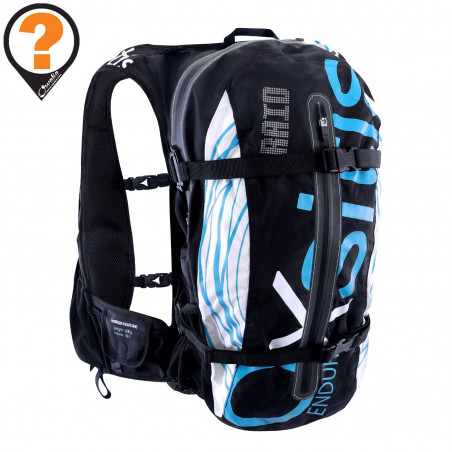  
Backpack outdoor activities - Enduro 30.X
Technical backpack with a capacity of 30 L, water-resistant, with a large storage capacity, offering unique comfort thanks to its anatomical shape.
Security guarantees
Secure payment
Delivery policy
Fast delivery in 48 hours
Exchange or refund
Possibility of exchange or refund in case of problem
The ENDURO RAID 30.X bag is designed to meet the most demanding requirements, this light and compact backpack allows you to carry the essential equipment for outdoor activities (water, spare clothes, waterproof jacket type GORE-TEX®, nutrition etc…). Perfect balance between lightness and stability, it offers optimal comfort for the Trail, long mountain bike rides and multi-day hikes. Mountain and high mountain lovers will be seduced by its versatility and its many accessories to attach Piolet, crampons, sticks, easily accessible. Equipped with our latest innovations to simplify its use, it allows you to experience your adventures in nature to the full. Keep your things dry with its waterproof slides and self-locking sliders.
Advantages
Accessibility
Lightness
Stability
Versatility
How to choose your size?
Oxsitis backpacks are worn close to the body for maximum stability and comfort thanks to their breathable materials. Choose the size of your bag based on the usual size of your t-shirts.
Sizes: S (< 1m70 / < 65kg) – M (1m70 à 1m85 / 65kg à 80kg ) – L (> 1m85 / > 80kg)
Care and maintenance
Oxsitis bags are made of technical materials with water-repellent properties.
Hand wash
Ironing excluded
Machine drying excluded
Professional cleaning excluded
Bleaching excluded
Do not use laundry or detergents. Wash your bag with a soft sponge.
Ref
40001102
Volume (litres)
30
Weight (grams)
420
Materials
Nylon ripstop 40D, waterproofness 1000mm
3D Mesh for a good breathability of the back
Sizes
S (< 1m70 / < 65kg) – M (1m70 à 1m85 / 65kg à 80kg ) – L (> 1m85 / > 80kg)
Adjustments
Anatomical fit with unique adjustments: lateral Velcro to adjust your bag according to its capacity and your size.
Pectoral and ventral adjustment, for a better distribution of the load on the back, and a perfect stability, without disturbing the breathing.
Compartments
2 zipped pockets on the shoulder straps of the bag to store a 6.5-inch smartphone with self-locking slider so you won't be bothered by noise.
Compartments designed to accommodate 2 flexible 500ml flasks.
Bi-elastic compartments, made from the experience feedback of our elite athletes to transport their bars, gels, dietetics very easily accessible and without tossing.
Central compartment easily accessible by two zippers, one of which is vertical for quick access to priority or security equipment. This central compartment is itself segmented into several independent compartments to easily store a water pocket, refill clothing, or comfort equipment. Separate the heavy from the light, the dry from the wet. These very fast access pockets offer a great organization to store your essential or occasional equipment.
4 Reflective loops for more security that allow you to attach a Mesh net accessory, to increase the volume of the bag, if necessary.
Hydration
Bag sold without system. Compatible compartments to accommodate any 500ml soft flask and any 2l water bag.
Security
For increased safety, Oxsitis backpacks are equipped with a whistle that is easily accessible without putting the bag down and reflective strips.
No customer reviews for the moment.