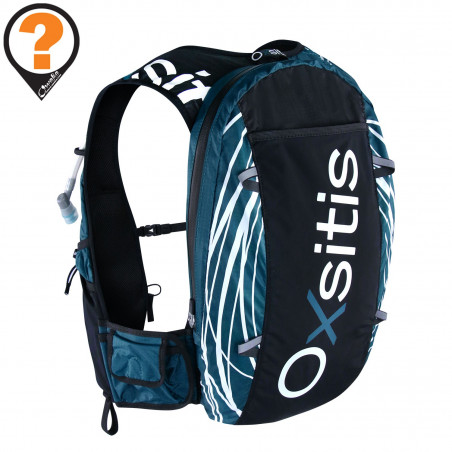  
Backpack 16L +2L WATER - ACE16
This new-generation technical backpack provides a 16L capacity. Sold equipped with a 2L water bladder. The Ace 16 provides a unique comfort thanks to its smart storage facilities and its anatomic fit. Recommended for long running sessions.
Security guarantees
Secure payment
Delivery policy
Fast delivery in 48 hours
Exchange or refund
Possibility of exchange or refund in case of problem
The ACE 16 backpack is designed to meet the requirements of long-distance runners. This very light backpack allows to carry all the necessary equipment for Trails and Ultra Trails. With its perfect balance between lightness and stability, and its optimal breathability thanks to its Airback Control system, the Ace 16 provides the perfect comfort for Trail running, as well as for mountain bike, or daily hiking. Nature runners or hiking lovers will be amazed by its functionality and its numerous accessories to fix poles, easily accessible thanks to magnetic pockets. The ACE 16 is equipped with our latest innovations to simplify its use. Keep your equipment dry thanks to waterproof zippers and locked sliders.
Advantages
Lightness.
Comfort.
Compartments' functionality.
Waterproof.
How to choose your size?
Oxsitis backpacks shall be worn close to the body for optimal stability and comfort thanks to its breathable materials. Choose the size of your backpack in accordance with the size of your regular T-shirts.
Sizes : S (< 1m70 / < 65kg) – M (1m70 à 1m85 / 65kg à 80kg) – L (> 1m85 / > 80kg)
Care and maintenance
Oxsitis backpacks are made of technical materials with water-repellent properties.
Hand wash
Ironing excluded
Machine drying excluded
Professional cleaning excluded
Bleaching excluded
Do not use laundry or detergents. Wash your bag with a soft sponge.
| | |
| --- | --- |
| Ref | 41111122 |
| Volume (L) | 16 |
| Weight (grams) | 345 (without any accessories) – 480 equipped with a 2L water bladder. |
| Materials | Nylon 40D, waterproof 1000mm 3D Mesh with Airback Control system for good back ventilation. |
| Sizes | S (< 1m70 / < 65kg) – M (1m70 to 1m85 / 65kg to 80kg ) – L (> 1m85 / > 80kg) |
| Adjustments | Anatomic fit with unique adjustments: side straps to adjust your backpack depending on its capacity and on your size. Chest and waist adjustment, for enhanced stability and balance, without causing any breathing issues or issues for the female chest. |
| Compartments | Smartphone pocket on right strap, with a hole for headphones and a locked slider. Compartments dedicated to store 2 soft flasks of 500 mL each. Compartments made of a bi-elastic material, specifically designed from our athletes' feedback, in order to store energy gels and bars, with easy access, and avoiding shaking. Side compartments with magnet closing to store 3 energic bars on each side. This central compartment divides itself in several compartments to store water bladder and clothes. These compartments will also allow to separate wet and dry clothes. The easy access to these compartments offers a large possibility to store all necessary or occasional equipment. 4 reflective loops which enhance visibility and safety. These loops are also dedicated to hold a Mesh net pocket. It increases the bag capacity and has an easy access to its inside without removing the bag. Perfect to put your light windstop jacket. |
| Hydration | Backpack sold with a 2L water bladder. Compartments are compatible to store any 500 mL soft flask on the frontside. Backpack sold with the Easy Fix Pole Control System. Backpack sold with magnets to fix the race number. |
| Security | Oxsitis' backpacks are equipped with an easily accessible whistle and with reflective loops for more security. |
No customer reviews for the moment.