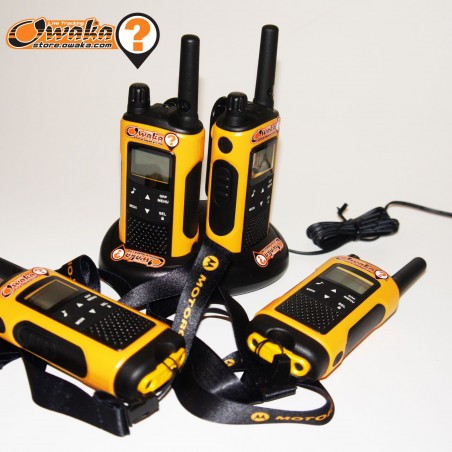  
[renting] Radio TLKR™ T80 Extreme
[briefcase x4) Radio ready for extreme adventure.
Renting:  briefcase of 4 Radios, talky walky professional.
Security guarantees
Secure payment
Delivery policy
Fast delivery in 48 hours
Exchange or refund
Possibility of exchange or refund in case of problem
Pack briefcase for 4 team mates!
Intensive use: Robust and waterproof !
Thanks to the norm PMR 446, the Motorola T80 Extreme is compatible with all talkies walkies PMR446 and allow you to communicate for free over a distance up to 10 km*!

The Motorola TLKR T80 Extreme is waterproof! It is also equipped with a flashlight LED very useful and professional to work at night. It is convenient for a usage inside and as well outside!

With the feature Vox, the talkie-walkie T80 Extreme is working by your tone of voice. So, you can when you want contact your team, even when your hands are not available.
Ultra-equipped
A transportation briefcase delivered with 2 pairs of talkies-walkies Motorola TLKR T80 Extreme. It helps you for transportation and integrated numerous accessories:
- 2 double chargers
- 4 belt clips
- 4 straps
The TLKR T80 Extreme will follow you in all conditions, in your hardest adventure, with its robustness and waterproofness. With a scope that can reach 10km*, essential accessories and perfect confection, the TLKR T80 will allow you to stay in touch with your team on the wildest trails and the upper mountain.

The T80 Extreme is a device with licence needed and without communication costs. It contains an LCD screen and 8 communication canals.
Principals features
• Radios PMR446 – without licence
• *Until 10 km scope (depending on conditions)
• Free calls
• LED flashlight
• Batteries NiMH rechargeable (supplied)
• 8 canals + 121 codes
• 10 calls tone
• Hands-free
• LED Lamp
• Robust, Waterproof
• Headphone connector
• Transportation briefcase + accessories

Mechanical
• LCD Screen with light
• Keyboard locker
• Battery level indicator
• Belt clip and transportation ring
• 500 mW transmitter
• IPx4 waterproof index

Alerts
• 10 calls tone
• Vibrant alerts
• Keyboard tone
• Tone of confirmation message sent/ well received
OWK-Rent -TLKR T80 EXTREM
No customer reviews for the moment.