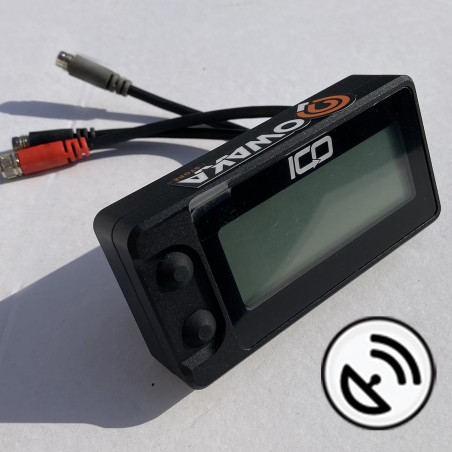  
Rallye MAX-G™- ICO Racing™
The Rallye MAX-G™ is the next-generation, GPS-based successor to the most trusted rally computer in the world, the Rallye VRL™. We've taken decades of feedback into account to design and manufacture the best competition rally computer in the world.
Security guarantees
Secure payment
Delivery policy
Fast delivery in 48 hours
Exchange or refund
Possibility of exchange or refund in case of problem
New Case Design
We partnered with a SCUBA computer company to design a case more resistant to weather and condensation. The case features a seamless waterproof lens and is assembled in nitrogen gas to prevent condensation.
New Custom Display
We designed a custom LCD with a 180° vertical viewing angle and ultra-sharp contrast. The Rallye MAX-G™ display has the largest digits available in any rally racing computer. We also added 11 helpful on-screen icons to make operation more simple.
New Hardware and Software
The Rallye MAX-G™ builds on the software and hardware platform that we launched with the Rallye CAP™ computer in 2014. Already proven in rallies around the world, this new platform is more reliable and more user friendly.
Easy Upgrade
The Rallye MAX-G™ is a drop-in replacement for the Rallye VRL™. Mounting dimensions, cable connections, and accessories are compatible with most rally installations. Overall dimensions are 95mm x 49mm x 28mm.
Included:
Rallye MAX-G™ computer
New style 3-button remote thumb switch
New, faster GPS receiver
Mounting bracket and hardware
Power cable
Instruction manual
Features:
Adjustable odometer
Speedometer with resettable peak speed mode
CAP compass heading display
GPS-based time-of-day clock
New GPS updates 5x faster (5 updates per second)
Almost instant "warm" satellite acquisition
Resettable hour meter tracks maintenance intervals
Resettable second trip odometer
Supports kilometers and miles
AutoCal™ automatically adjusts to match the route
OdoQuick™ feature eliminates mode changes to check odometer while in CAP mode
New OdoPause™ feature makes adjustments easier while moving
180° vertical viewing angle
Large, sharp contrast digits
11 helpful icons improve ease of use
Adjustable backlight has night mode (dim) and day mode (bright)
Auto shut off after 2 hours of no activity
Total lifetime distance stored into permanent memory
Includes aluminum bracket for mounting computer to handlebar clamps
Requires a hard-wired connection to the motorcycle's 12V battery
Small GPS receiver can be mounted almost anywhere with a zip-tie
12 month warranty
No customer reviews for the moment.
Customers who bought this product also bought: