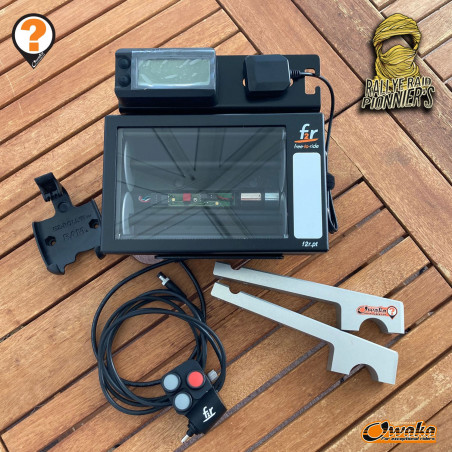  
Pionner's Rally - Kit Navigation
NEW FOR 2021, includes the new RB850, the ICO GPS, and the FG Racing binding.
This Pack developed with the best instruments and bindings on the market, was designed to withstand the extreme conditions of rally raid and baja.
As a gift for the Rally des Pionnier's, the cradle for the Owaka beacon
Security guarantees
Secure payment
Delivery policy
Fast delivery in 48 hours
Exchange or refund
Possibility of exchange or refund in case of problem
NEW This pack includes the all NEW RB850 the best roadbook reader on the market - lighter, larger roll diameter, new transmission, rotation lock, ... The BEST
This kit is perfectly suited to the transformation with quick assembly and disassembly on an enduro motorcycle.
This kit contains:
the all NEW RB850 from F2R - Rally Roadbook which is today the best Roadbook reader on the market.
The ICO Rallye MAX-G ™ G as a GPS, Repeater and trip on the same on-board computer ... is the successor to the most relevant trip in the world of rallying, the Rallye VRL ™. Indeed ICO Racing has enriched its know-how for decades to design and manufacture the best on-board computer for rally-raid.
The plate and fixing on PONTET: A focus FG, instead of your bridges; you will save space and weight for optimal reading when sitting or standing. The mass of these arms allows drilling and milling in order to fix your RAM ball for the installation of your GPS, your Owaka beacon ...
CR001 from F2R: Trip control and roadbook reader on the handlebars. And of course the F2R handlebar control, well known to all rallymen and raiders for its strength and precision.
As a gift for the Pioneer Rally, the cradle for the Owaka beacon
No customer reviews for the moment.