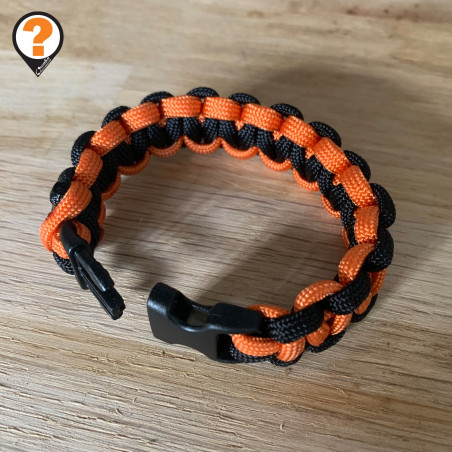  
Survival Bracelet - Paracord
Choose the survival bracelet Owaka, to get all the time 3 meters rope within wrist's reach
Security guarantees
Secure payment
Delivery policy
Fast delivery in 48 hours
Exchange or refund
Possibility of exchange or refund in case of problem
It is still very useful and practical in conditions of survival.

 To limit the space, we suggest you leave with a survival bracelet.

The survival bracelet is made up of one or more Paracordes braided so that they can be unwound easily and quickly. You will have within reach of "wrist" up to 3-4 meters of ropes, not negligible during your adventures! It is a reliable tool, they were first used in the military and can also be decorative.

We have compiled a list (not exhaustive) of the advantages of this survival bracelet:

- 3 meters of rope within wrist's reach

- The rope does not tangle, easy to untie

- Very light and does not interfere

- This bracelet is ultra-resistant

- The rope used can support a load of 250kg

- The Paracord is made of 7 nylon threads which can be used individually

So don't leave without your survival bracelet!


For the more manual, we offer the material necessary for making the bracelet and an explanatory tutorial!

It's this way, HERE.
No customer reviews for the moment.
Customers who bought this product also bought: