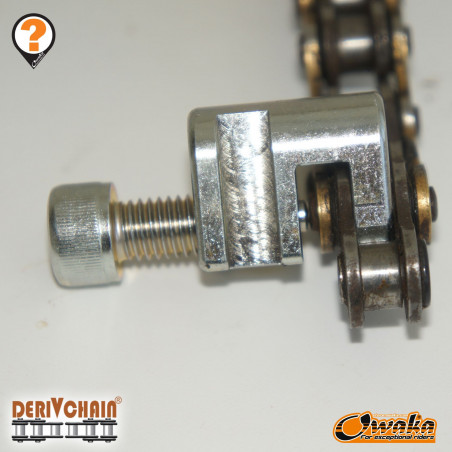  
Dérive Chaîne
The DERIV'CHAIN weighs only 85g and it installs on your motorbike in less than 2 minutes ... But above all motorcycle chains drift effortlessly ... (make and model deposited)
Security guarantees
Secure payment
Delivery policy
Fast delivery in 48 hours
Exchange or refund
Possibility of exchange or refund in case of problem
100g to continue the adventure ...

"I had carefully prepared the bike with a new chain kit of good quality .... And yet, after 50km of track , the adventure ended there ... »JCB Dakar 2012.

A string breaks for several reasons, the wear is not the main , a stone that fits between the links and the crown (or sprocket) , a wheel coming loose , derailment , use of a non adequate fat ...

The office of Owaka study developed the DERIV'CHAIN , make and model filed (to prevent counterfeiters ), we toured the manufacturers to realize the complexity of the tool.

The weight and bulk of a traditional chain drift is a major drawback for bikers.

The DERIV'CHAIN weighs only 85g and it installs on your motorbike in less than 2 minutes ...
The DERIV'CHAIN adapts to the toolkit of the motorbiker. It comes in three different bolts:

     Head bolt hexagonal 8
     
     A head bolt 6 pans 8
     
     A head square bolt 10 or 12

  A rider have necessarily the corresponding keys in the toolbox. The DERIV'CHAIN finds its place among all riders.

The objective :

    Derive a string for troubleshooting .
    least 100g .
    A fix on the motorbike.
    Used on all channels.
    Using standard tools (which are already in the toolkit ) .

 
Material used :

This tool is machined from hardened galvanized steel 115kg/mm ² for a high mechanical strength.


 
Promotion for the Africa Race and Dakar ...
No customer reviews for the moment.
Customers who bought this product also bought: